They say that rain on a wedding day brings the bride and groom good luck. It also brings a certain level of excitement (slash panic) to an outdoor dinner for 100. Thankfully, the last bit of "good luck" drops came and went as the first guests arrived, replacing that sinking feeling with a kick-ass-and-take-names approach that continued ALL. THROUGH. THE. NIGHT...and right up to the standing ovation.
"Art is not what you see, but what you make others see." Edgar Degas
Replace the "see" with taste, and you have defined the evening. Artists, taking the ordinary and arranging them in ways to make them extrordinary; a backyard turned into an oasis and simple ingredients masterfully crafted into 12 courses; all with the focused intention of creating an unforgettable experience for the attendees.
"All the beets" Matthew McCallister
Heirloom Popcorn. Robert Lyford
The food was playful and the anticipation of each dish electric. The courses were served family style and placed on wood stumps arranged every 2-3 feet on long farm tables covered with live moss. A salad was given to guests as a present in a closed paper box that had to be opened. Tin cans were the clever vessels for Chef Robert's "Pork and Beans". Other courses were served in mismatched vintage dishes, emphasizing the artistic yet relaxed atmosphere of the evening.
"Pork & Beans" Heritage Pork Collar,Yellow Indian Woman Beans, McKinney Carrots, Charred Rapini from the winter. Robert Lyford
Charred Sweet Onions, Lemon Thyme, Foraged Chanterelles. Matthew McCallister
As Kaci, Luann and I took a breather, we looked out onto lawn and upon the happenings of a fabulous dinner party. I turned to the mother/daughter duo and said, "Look. There are YOUR people...it's the Patina Green people''. In the garden we saw a community of farmers, chefs, and real food enthusiasts brought together for the evening by two of the movement's most passionate members. Looking back, it was without a doubt a "best of 2016" moment for the Patina Green Home and Market crew.
*Many thanks to the Cavalier Family for allowing us to host this event in your beautiful home. Thank you to Chef Joey Dawkins for joining us in the kitchen and a special thanks to Chef Matthew McCallister with FT33 for working alongside Chef Robert and creating unforgettable dishes and moments for our Dinner in the Garden.
To see all the mouthwatering moments from this event, view the slideshow below.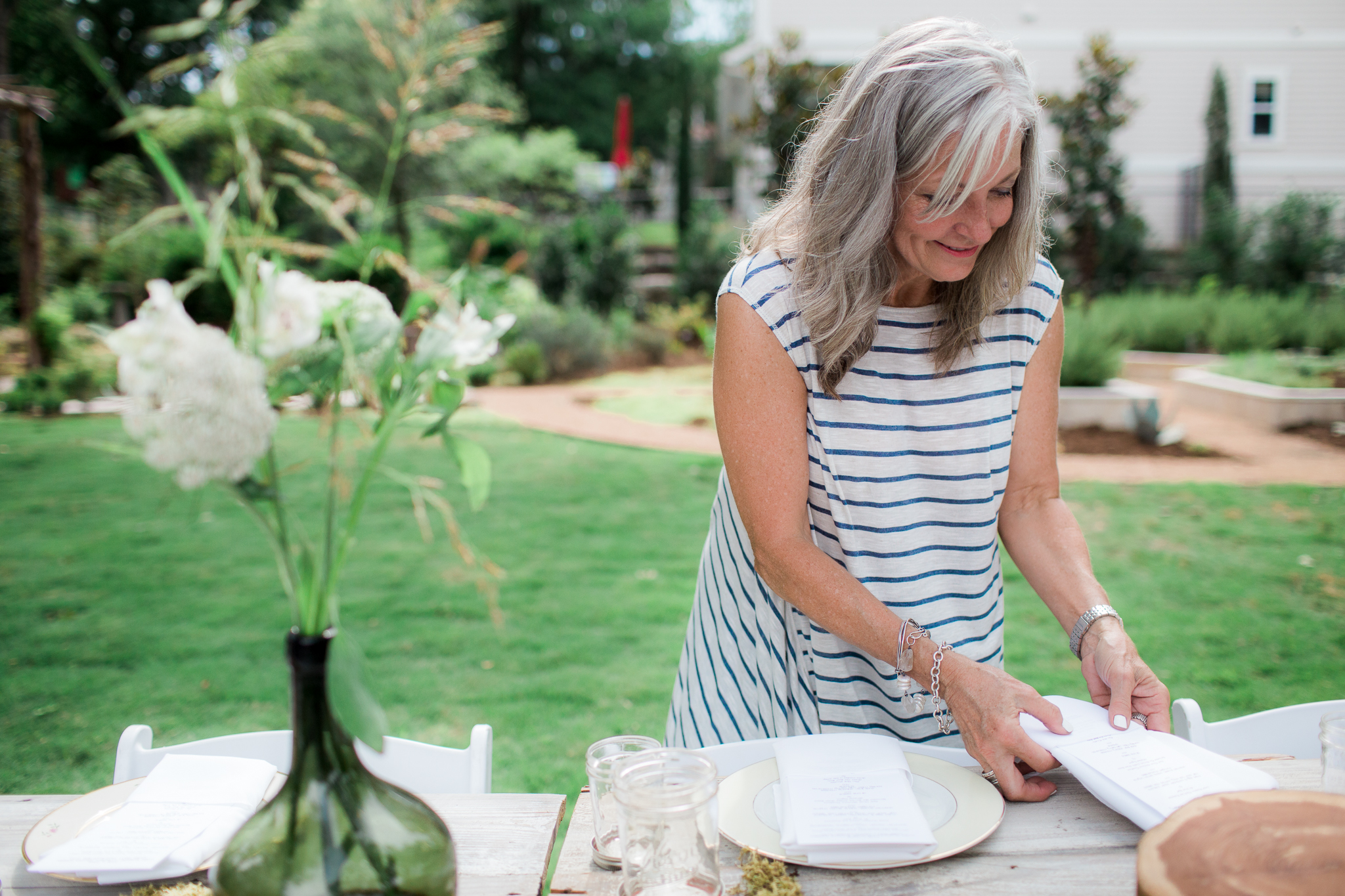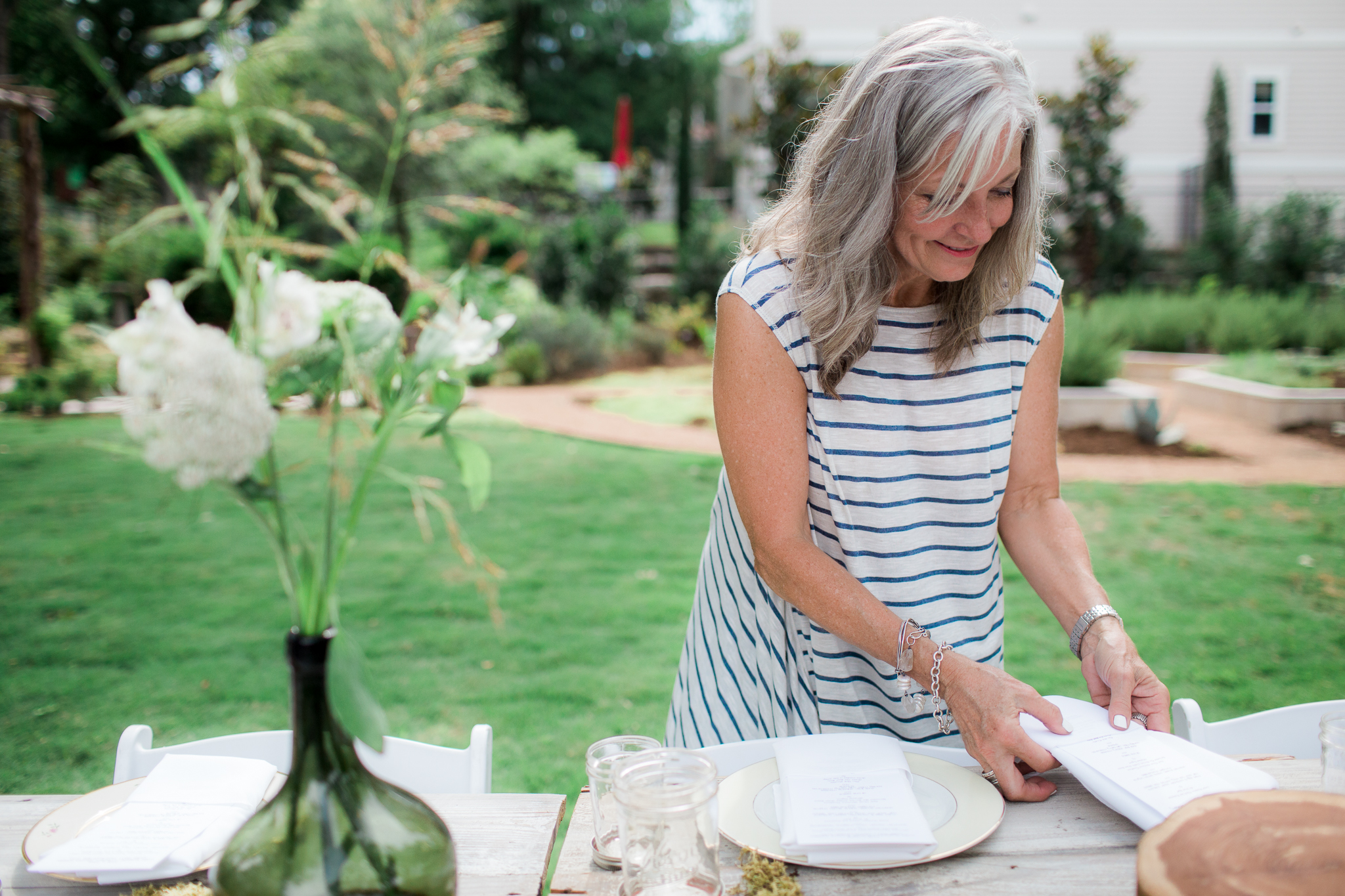 photography and writing by Melinda Ortley
June 11, 2016
Chef Robert Lyford, Patina Green
Chef Matt McCallister, FT33
Heirloom Popcorn, Peanuts, House Cured Olives, Biscuits w/ Ribbon Cane & the Good Butter. Robert Lyford
Summer Squash, Feta, Oregano, Blackberry.
Matthew McCallister
Local Produce. Fresh and Preserved Air Dried Beef.
Robert Lyford
Fried Egg & Coriander Caper Custard, Half sour Bok Choy, Puffed Rice, Aleppo.
Matthew McCallister
Charred Sweet Onions, Lemon Thyme, Foraged Chanterelles.
Matthew McCallister
East Texas Heirloom Tomatoes, Sprouted Rye Berries, Linda's Green Beans, Strained Yogurt. Robert Lyford
All the beets . . .
Matthew McCallister
Duck Liver chicory Mousse, Barley Miso, wild Berry Mostarda, Brioche.
Matthew McCallister
Raw Milk Ricotta, Grass Fed Beef Bolo, Grits cooked in the Whey.
Robert Lyford
"Pork & Beans" Heritage Pork Collar, Yellow Indian Woman Beans, McKinney Carrots, Charred Rapini from the winter.
Robert Lyford
Peaches, Brown Butter, Financier, Chamomile.
Matthew McCallister
Chocolate Pudding, Anglaise, Cornbread, Agarita.
Robert Lyford